Hey guys, here is some information about softballs and bats allowed for use at Sports Park:
Men's will use a Classic M ball
Women's will be a Classic W ball
Clarification for men's softball. There are many brands and styles of men's slow pitch softballs. What you want is a classic M 40 core 325 compression. This will be in the description when shopping for a league ball. I understand it can get real confusing. The core and compression rating determines the hardness and bat reaction. A 40 core 325 compression is a standard model most leagues use across the country. If you still have questions feel free to message us.
Bats will need to have one of the following stamps as shown below.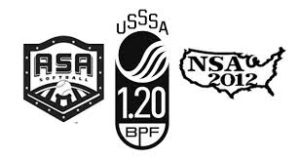 You can either bring your own balls or we will have some available for purchase at the office. Umpires will require you to show them your equipment before you can play so be prepared for that:)
Vincent Sieckowski is going to be the Head Umpire out at Sports Park and is also a moderator to our Softball group on Facebook, so if you see him replying to any comments you know you can trust his word!
Thank you!!