Hey guys, here is some information about softballs and bats allowed for use at Sports Park:
Men's will use a Classic M or Pro M ball
Women's will be a Classic W ball
Bats will need to have one of the following stamps as shown below.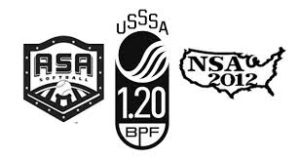 You can either bring your own balls or we will have some available for purchase at the office. Umpires will require you to show them your equipment before you can play so be prepared for that:)
Thank you!!